APV Reno specialize in bathroom renovations in Toronto and the GTA.
If you're looking to simply "refresh" the visual aesthetics of your bathroom, we'll paint it for you in a way that will improve the overall appeal overnight.
But if you're seeking something bigger such as "bathroom remodeling" or a complete bathroom renovation overhaul which will render a completely brand new contemporary or modernized bathroom, we will renovate your old bathroom to your desired touches, piece by piece. Or perhaps you are in need of one more bathroom in your home or would like to extend or enlarge an existing bathroom.
Bathroom remodeling may seem like a simple bathroom reno, however, it possesses many attributes which must be carefully thought out during the design preparation prior to build.
Whether you're seeking advice in maximizing space, unsure of colour selections, or choosing the best and most suitable materials for your home; our bathroom renovation contractors each possess over 20+ years in bathroom renovations to help build or expand your dream bathroom to perfection. We NEVER rush a job, and treat each element meticulously. As a result, there's less chance of "fixing up" at the end of a bathroom renovation.
Call us today at 647-207-4280 to schedule a FREE consultation and estimate within 24hrs at your home. We look forward to bringing your dream bathroom to life.
---
Bathroom Renovation Example #1:
Are you looking for a complete bathroom makeover? Want to change your old bathroom into a brand new one? Here's a great bathroom renovation example:
"In this ensuite bathroom reno, our clients had finally managed to do the full renovation upgrading it to a modern and luxury bathroom with curbless shower, shower glass panel, pot lights, modern pattern design on tiles, etc. We completed the demolition of the existing bathroom, and then commenced with the new bathroom remodeling build."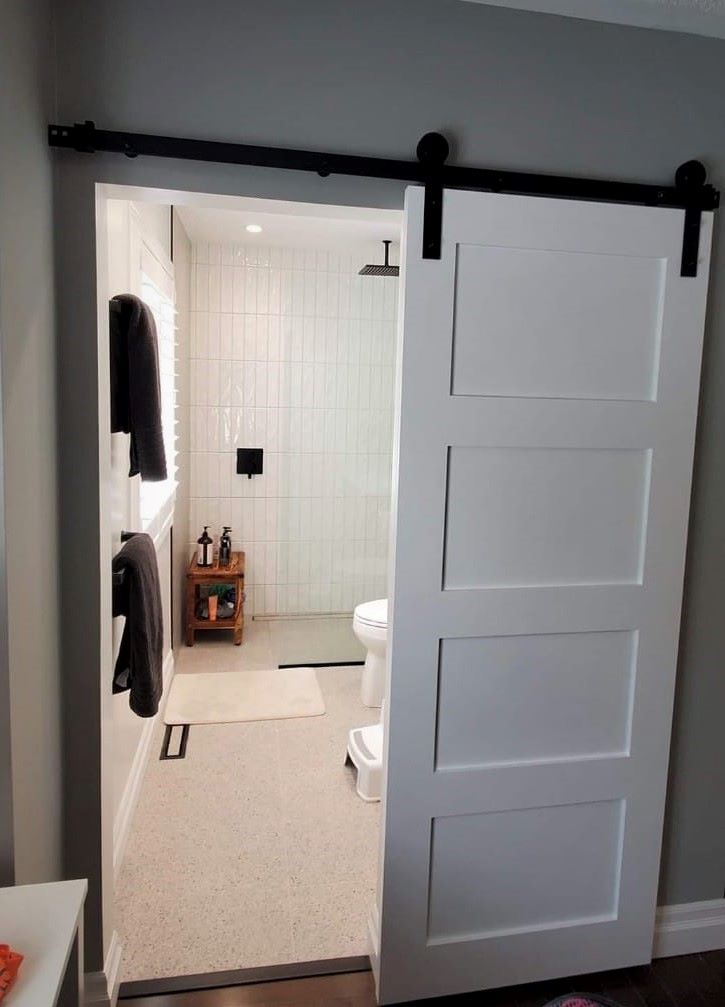 Call us at 647-207-4280 for a free estimate!
---
Bathroom Renovation Example #2:
How about an extra bathroom in the house? This is a common job as there never seems to be enough bathrooms for a family with little ones and parents working from home on this new era:
"This was a case where our clients, working from home professional parents, decided to finish the basement as a place for office for both and entertainment area for the family. Thus, we completed the basement finishing and built this beautiful bathroom."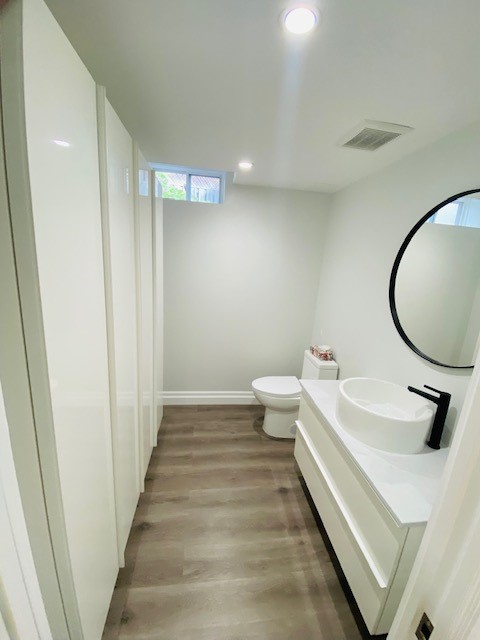 Call us if you're experiencing the same "new normal work style"!
---
Bathroom Renovation Example #3:
When we talk about "customer service" within a busy commercial environment with a regular flow of traffic, bathroom and washroom facilities are always paramount!
"One of our clients, a Ford Auto Dealer, indicated that it was time to remodel their outdated washroom facilities within their offices as they understood that new bathroom facilities would enhance customer satisfaction and subsequently increase business. As a result, they commissioned us the job of remodeling their office bathroom."

I don't think many people would expect to see this bathroom in an auto dealership!
---
Bathroom Renovation Example #4:
Are you looking for a very chic bathroom with modernized details and style? Well, we've done that too with another repeat client of ours:
"Our client, Nadia, had been living in an apartment condo for the last 4 years and wanted to modernize her old bathroom as it was quite outdated. Hence, she called us to make the bath renovations."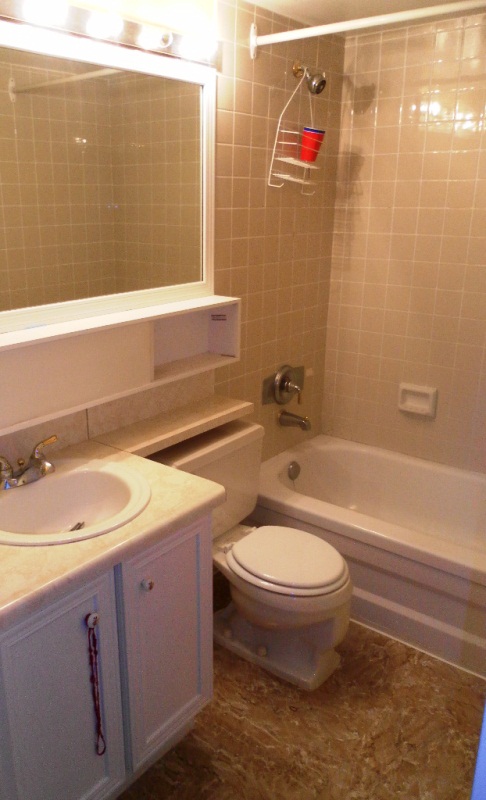 Wow, super chic and stunning- reflects the client herself!
---
Bathroom Renovation Example #5:
More ideas of how could you makeover your old bathroom? Here's another great bathroom renovation example:
"In this bathroom reno, our client had finally managed to buy their first home but the bathroom was in serious need of a renovation as a result of leaking pipes over a long period of time which had damaged the shower. From the demo to the finish painting, going through plumbing, drywall, tiling, etc."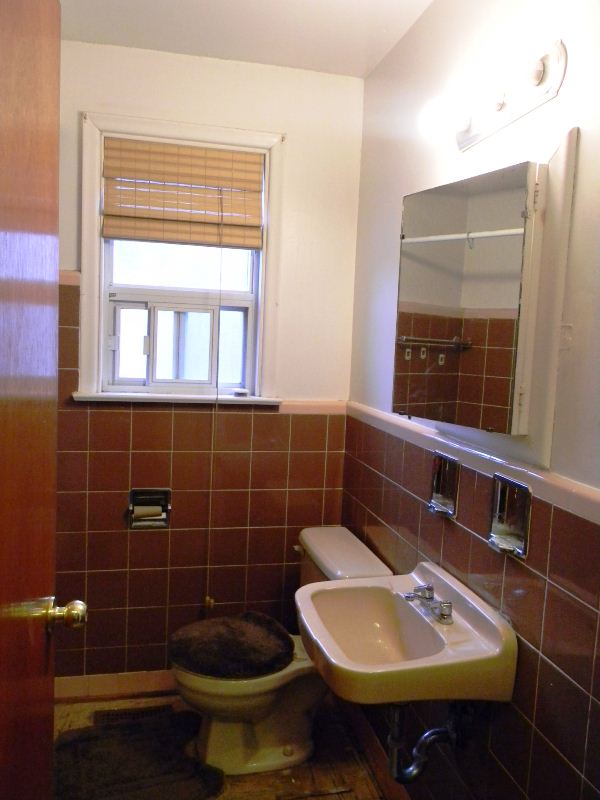 What an incredibly beautiful change in appearance!
---
Easy Bathroom Renovations Tips
Your bathroom is no doubt the smallest room within your home, but, no one can deny its importance as it is the most used place on a daily basis. That being said, a bathroom renovation is important and the main objective in bathroom remodeling is to not just beautify it, modernize it, but to make it more pleasurable to use. There's no doubt that even the smallest changes with simple things can yield a huge difference in the overall appeal. An effective, elegant bathroom design should cater and address your needs both physically and from a personality perspective. Moreover, it enhances the value of your home, offers elegance, and provides an enjoyable space. Nowadays, there are a wide variety of stylish bathroom accessories available to buy in local retail stores making your bathroom renovation in Toronto inexpensive and fun.
Here are a few tips about bathroom renovations to make this task much easier and interesting:
Selecting flooring: A bathroom floor is the essential element to achieving YOUR ideal bathroom. You have to choose a floor that is functional as well as attractive. It should be water and rust resistant. Marble, stone and ceramic tiles are best for most bathrooms and are available in a variety of designs and colors. Hardwood sealed floors are perfect for homeowners looking for natural elegance and look. It is important to ensure that your bathroom floor is not slippery when wet, and is comfortable to walk on.
Bathroom lighting: One of the important bathroom renovation tips is great lighting because it is imperative for safety and great aesthetics. You can obtain several lighting ideas and different designs in local Toronto retail stores and you will definitely find a design that matches your own personal style. It's probably a good idea to install dimmer lighting switches in your bathroom for times when you just want to relax in the bathtub.
Elegant fixtures: Selection of durable and elegant fixtures gives an attractive appearance to a bathroom. By choosing unique accessories such as sinks with nice lines works wonders. You'll find thousands of unique and modern bathroom accessories in stores across Toronto that give an enticing look and make your bathroom look outstanding, compared to the traditional bathroom. While shopping for bathroom accessories, make sure that you have purchased accessories of consistent shapes, sizes and colors. Buy the accessories that match the overall theme of the bathroom.
Bathroom mirror: A bathroom mirror also plays an important role in bathroom renovations. A stylish mirror makes a stunning difference in the visual appeal, and can add so much elegance and character to the space. Bathroom mirrors makes the bathroom look stylish and larger than it's actual size. In addition to a stylish mirror, proper lighting and attractive frames also adds to the overall look of the room.
People usually think that small bathroom renovations is not possible, but the fact is that you can remodel your bathroom just by investing a small amount of money in return for a noticeable effective change. Painting your bathroom is probably the most common, affordable, and easiest way to achieve a great attractive visual difference. Bathroom renovations are easy and can be implemented from small scale projects to full blown overhauls. You can collaborate ideas from the internet or bathroom & kitchen magazines prior to hiring a bathroom renovations professional.